Steam beverage filling machine is a kind of machine for filling steam drinks. It is a small category of products in the packaging machine. It is divided into semi-automatic filling machine and automatic filling machine from the degree of automation of production; It can be divided into liquid gas beverage filling machine, paste filling machine, powder filling machine and grain filling machine from the packaging angle. The steam beverage filling machine is a kind of filling machine.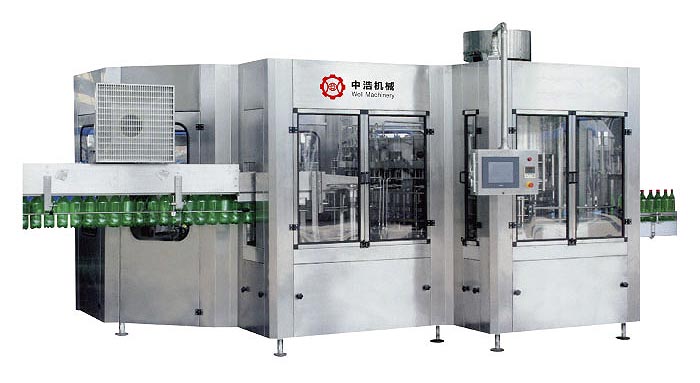 The steam beverage filling machine is an filling device for carbonated drinks such as cola and Sprite. The filling machine is the main device for filling the action. The front part of the host is equipped with several filling heads, each with a pumping cylinder on both sides. Each cylinder corresponds to one filling head. The liquid in the tank is pumped into the cylinder, then pressed out and poured into the corresponding bottle by the filling head. There is a miniature cylinder on the filling head of the steam beverage filling machine to drive a small piston open and closed filling head's nozzle, which acts as a valve. The whole head can go up and down. When the steam beverage filling machine is about to start, the nozzle is inserted into the bottle, and the small piston is opened at a certain interval from the bottom of the bottle to start filling the liquid, filling the head with the edge of the filling, and the steam beverage filling machine is closed until the filling is completed. And rose to the bottle mouth position. On both sides of the filling table, there are two small cylinders driving two Stoppers, one at the entrance of the bottle and the other at the exit of the bottle. Their role is to correctly position the bottle together with the bottle mouth device on the filling table., so that the nozzle is correctly aligned with the bottle mouth.
Steam beverage filling machine is a solid backing for the beverage market. Especially in the modern market, people's demand for commodity quality is increasing, market demand is expanding, and enterprises 'demand for efficient and automated production is constantly increasing. The filling equipment became a hot filling device. In addition, in recent years, the level of science and technology has improved, and the domestic filling machine industry has also achieved rapid development. The technology level, equipment performance, and quality have all improved to a great extent, and have played an important role in supporting enterprises 'efficient and safe production.
With the development of industry, the steam beverage filling machine has received more and more attention in the market. The safety filling of the entire production line has a great impact on quality. In this regard, with the development of fully automatic technology, the automatic filling machine has made very good progress.