Bottled Pure Water Filling Equipment Description:
Bottled pure water filling equipment with rinsing, filling and capping. It is innovated and designed in the requirement of still pure water and mineral water, on the bases of introducing, digesting and absorbing advanced technology from Germany and Italy.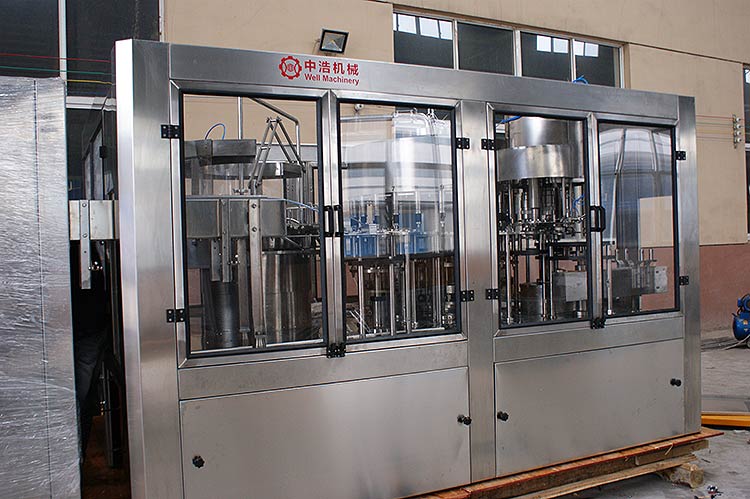 Bottled pure water filling machine adopts bottle neck holding transmission technology to realize fully automatic rinsing, filling, capping. Most of elements of the electric system employ famous brand products. The pure water filling machine parts which contact with the liquid are made of high quality stainless steel. They obtain the advantages of good abrasive resistance, high stability, low failure rate, etc.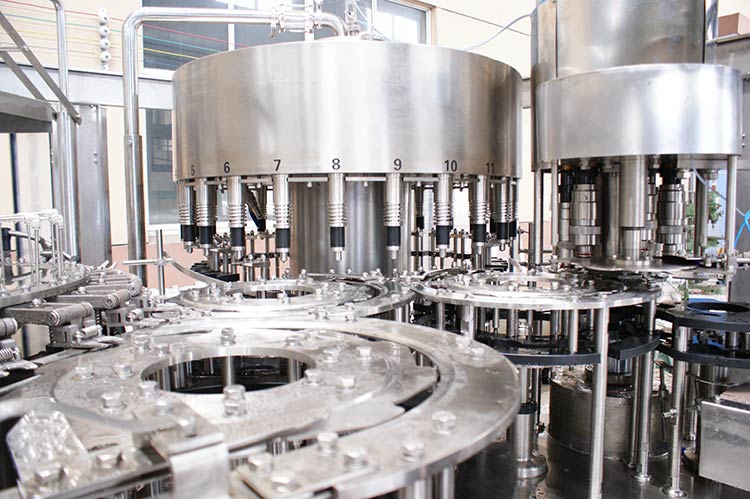 The bottled pure water filling equipment is mainly used in the beverage filling operations. The three functions of bottle wash, fill and seal are composed in one body of the machine. The whole process is automatic. The machine is used in filling juices, mineral water and purified water in bottles made of polyester and plastics. The bottled pure water filling equipment can also be used in hot filling if being installed with temperature controlling device. The handle of the machine can be freely and conveniently turned to adjust the machine to fill various types of bottles. The filling operation is faster and more stable because the micro pressure filling operation of the new type is adopted. There the output and benefit of the machine is higher than the machinery of the same specifications. The advanced OMRON programmed controller (PLC) is adopted to control the filling machine to run automatically while a transducer is used in the bottle-entering chains to adjust speeds and coordinated with the transducer of the main machine to make the operations of moving bottle forward steadily.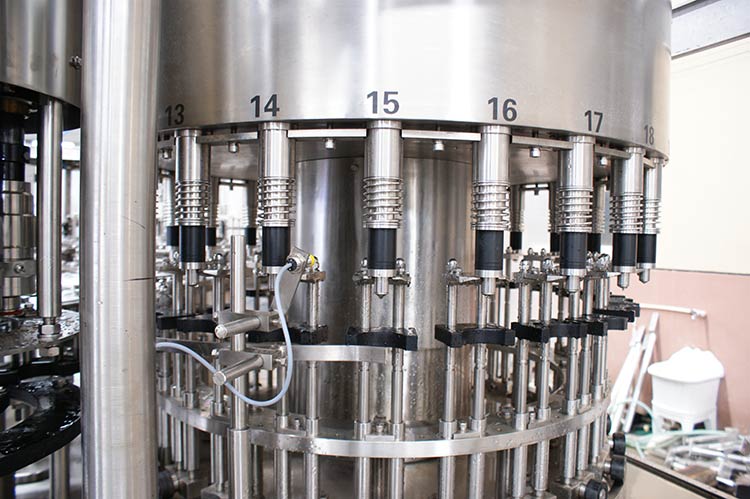 Bottled Pure Water Filling Equipment Main features:
1. This pure water filling machine has a compact structure, perfect control system, easy to operate and highly automated.
2. Only by changing the star-wheel, arch board can realize fill bottle shape change
3. The parts contact with product is made of quality SUS, anti-corrosive, and easy to clean.
4. Rapid flow, highly filling precision, nicety liquid level without any liquid loss to satisfy the filling process demand.
5. The capping head adopts constant torque magnetic device to guarantee capping quality and impact cap.
6. This bottled pure water filling equipment has a high efficient cap arranging system, perfect cap feeding with self-control and self-protection device.
7. The filling equipment adopts perfect overload protective device can ensure the operator and machine safety
8. The control system has many functions, such as control producing speed, cap shortage detection, bottle block automatic stop and production counting etc.
9. The main electric and air-drive components are world famous brand products.
10. All control is advanced touch-screen operation and realize people-computer dialogue operation.
Zhangjiagang Well Machinery Co., LTD.
ADD:No. 235 Guotai North Road, Zhangjiagang economic and Technological Development Zone
TEL:0512-56316166
FAX:0512-56316198
E-MAIL:chuzhongwen@163.com
Http://www.wellmachinery.com
P.C.:215600